March 9, 2020
Posted by:

admin

Categories:

Employee Monitoring, Remote Employee Monitoring
Monitoring Remote Employees made Simple
The Covid-19 outbreak is forcing a lot of organizations to encourage employees to work from home, but can monitoring remote employees be done effectively? With work no longer restricted by boundaries and geographies, remote work is becoming a norm. Technology has made the workforce to be more effective, productive, and engaged. Employers make use of the connected world that allows for flexibility in how, when, and where people work. The biggest challenge that comes with this is the effective monitoring of remote employees.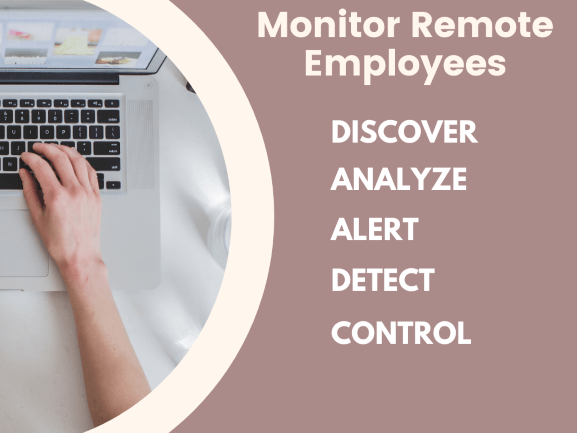 However, cybersecurity remains a concern for companies. While large enterprises have established security policies for monitoring remote employees, SMEs do not pay much attention to this area. Reports suggest that 72% of data breaches occur at companies with under 100 employees.
What are the risks associated with remote employees?
Flexibility in work schedule might give more freedom to the employees, but it can also be distracting. When employees work out of the home office, it's easy to let boundaries blur between work and personal stuff. Therefore, many organizations resort to monitoring remote employees for the following reasons:
Cyberslacking: A ballpark estimate suggests that organizations lose 2.5 hours per day per employee on average to non-productive usage of the Internet, which includes personal emails, using social media, accessing non-work-related (sometimes inappropriate) videos, shopping, or playing games online. Employee activity monitoring can make that loss of productivity count.
Data theft: A survey reveals that 47 percent of former employees take confidential company information with them before they leave the organization, breaking non-disclosure agreements. While the connected world had increased productivity and made the workforce mobile, it has also given employees new opportunities to access and steal sensitive information from organizations. 53 percent of employees send business-related information to personal email and cloud-based file-sharing accounts.
Frauds: Organizations often suffer a loss due to employees passing sensitive information for their gain. Fraudulent activities do not cost only the company money but also damages their reputation and the confidence of the customer. With proper employee monitoring, organizations can keep a check on the online activities and data transfer and prevent such loss.
How monitoring remote employees can be done?
Monitoring remote employees to prevent employees from wasting time on the Internet and protect data – these are the two main reasons for organizations to monitor the activities of their remote employees. Research reveals that 66% of employers monitor Internet connections, 45% track keystrokes, and 43% review computer files.
Monitoring remote employees using software gives organizations the ability to:
Discover: Understand where all the sensitive data of the organization resides that could lead to a possible compromise.
Analyze: Evaluate every piece of data being sent out by employees through various channels based on pre-defined patterns, keywords, phrases, or logic flows.
Alert: Maintain actionable intelligence on the crime, the system it originated from, and the person who committed it.
Detect: Ascertain and monitor fragments of sensitive data that could be sent to unsolicited viewers outside the organization
Control: Activate monitoring software to lock down specific channels or activities in case of any sensitive data exfiltration, which could harm your organization.
inDefend is a one-stop solution to help protect your data from all kinds of insider threats within your organization and from remote employees. It allows you to monitor your employees' behavioral patterns and pinpoint potential avenues for data exfiltration. This solution is built to achieve complete transparency over all the digital assets residing within your organization.
DeskSight is a productivity monitoring platform that offers birds-eye visibility about team activities & time spent on applications. With today's business operations seeking to be as efficient as possible, DeskSight helps with work patterns comparison of the top performers in the team to streamline workflows and boost productivity. 
Ekran System is an advanced software-based solution for corporate security monitoring that allows to record and analyze every user session on corporate servers, terminals, local PCs, and virtual machines, with support for Windows, Mac, Citrix, and Linux platforms. With Ekran System, nothing can hide: every user screen will be captured together with activity details – keystrokes, application name, opened URL, executed Linux commands, and others.
You can also read the whitepaper about monitoring remote employees.