August 8, 2019
Posted by:

admin

Categories:

Employee Monitoring, Remote Employee Monitoring, Work from Home
Employee Monitoring made Simple & Affordable
A non-intrusive approach to employee monitoring helps maintain employee morale resulting in better control over employees work and improved productivity
Productive employees are the backbone of any successful organization. Employees should have the freedom to work on new and innovative ideas. Good organizations provide technology and avenues for employees to excel in their respective fields. However, some employees tend to misuse the freedom given to them and the question that many organizations face is "How can we tack employees without them getting hassled ?"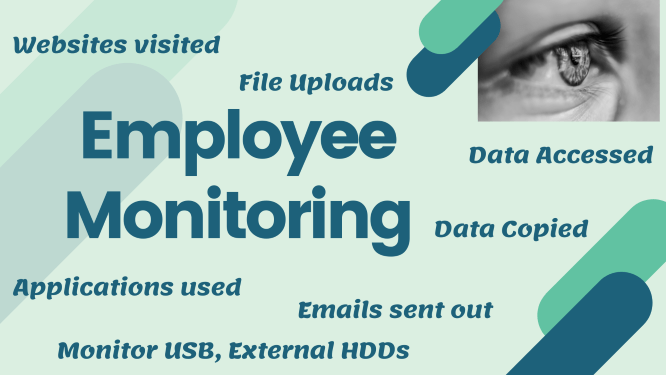 Better employee productivity is vital for any business's success, but productivity tends to decrease over time, and employees require constant support to stay productive. According to recent research findings, organizations tend to lose out on positive growth due to employee misuse of company data. Though employee monitoring tools in the workplace are commonly used to address productivity problems, only innovative tracking software can provide organizations with the best solution for increasing productivity without creating legal issues.
Employee Monitoring – Approaches 
There are different approaches to effective employee monitoring with various types of employee monitoring systems. Organizations can deploy a comprehensive employee monitoring software with data leakage prevention and employee behavioral monitoring to identify and stop sensitive data from leaving the organization. Another approach is to have a non-intrusive session recording software that will record all the user sessions on a desktop or laptop so that managers can view these sessions as live sessions or recorded sessions.    
An integrated DLP solution with behavior analytics and employee monitoring helps organizations to prevent data leakage and insider threats. It can minimize the loss and theft of critical business data through customized access policies thereby providing a real-time feed of data that's been sent out on a daily basis through all possible data exit points. The same can be achieved by creating a controlled environment for information outflow on various channels and portable devices. The solution's Intelligence reports also provide proactive warnings about probable data loss through notifications and alerts to identify and block any sensitive data from leakage. The application can also prevent access to unauthorized removable media devices, websites, social media, and unwanted applications. All employee monitoring and control are done directly at the endpoint level, thus reducing the cost of implementation and usage.
An advanced software-based solution for corporate security monitoring that allows organizations to record and analyze every user session during work hours is another option. Based on the indexed video record format, the software captures any user action on corporate endpoints, from server configuration changes to sensitive data access, giving you all the details necessary to explore and document any incident. The captured on-screen activity makes analysis easier and saves time, while synchronized log details such as entered commands or application names enable quick search and in-depth investigation. Real-time alerts on target events and rule-based USB device management can assist the incident response team with timely threat detection. Various reports improve audit capabilities to allow cross-checks.
inDefend provides comprehensive DLP whereas DeskSight & Ekran Systems provide sessions recording and employee monitoring of endpoints. Indefend can monitor all data exit points including employees' email, USB devices, file uploads, and also control users on the type of data accessed by employees. It can also be deployed in stealth mode to know what users are doing on company-owned devices. It monitors the applications used by the employees to have better control. It has data at rest scan feature that helps companies to identify who all have a copy of a specific document within the organization.
DeskSight is a cloud-based productivity platform that offers Managers, HRs, CXOs birds-eye visibility about team member activities, team productivity, time tracking on business applications, application control, powered with machine learning to analyze risky users/activities with deep analytics. It can also track the time employees spend on productive and non-productive applications. Ekran Systems can record any session from desktops, laptops, virtual and physical Servers, and RDP sessions. All recordings are stored in a greyscale format so that the storage space required is very less.