Powerful & Cost-effective SIEM & SOAR
Gain comprehensive visibility and control of your data with Logsign. Automate & orchestrate detection and response processes for faster response and improved workforce efficiency.
Logsign Next-Gen SIEM Platform
Logsign provides comprehensive visibility and control of your data lake by allowing security analysts to collect and store unlimited data, investigate and detect threats, and respond automatically.
360-Degree Visualization:- Visualization with hundreds of built-in security analytics-driven dashboards and reports.
Smartly Designed User Interface:- Easy-to-use platform and built-in modules, and the flexibility to create new ones.
Affordable Data Security:- Calculating cost is simple with Logsign's multiple, flexible SIEM pricing options.
SIEM Overview
Big Data Infrastructure with Infinite Scalability
Rapid deployment & easy configuration in every environment
Unlimited log collection & storage
Massively parallelized, fault-tolerant system
Long-term data retention
Limitless Log Collection and Storage
Collects every log from every environment with multiple, flexible pricing options
Advanced parsing and indexing techniques
Easy-to-work with normalized, classified, and enriched data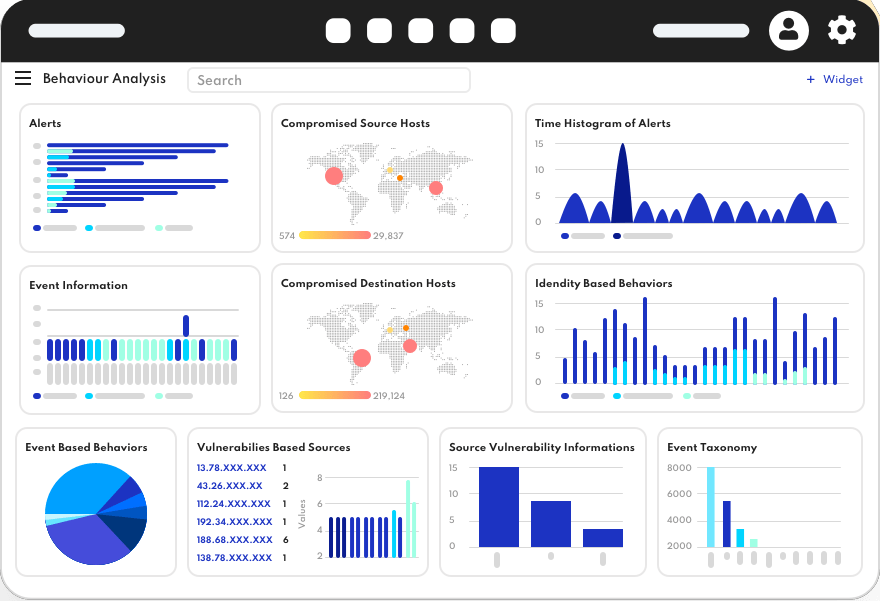 Detection of Any Complex Threats
Comprehensive correlation of all your data
Accelerated, detailed incident investigation
Early detection of cybersecurity threats
Uncovered anomalies and IOCs
Fast and Effective Data Protection
Mitigation & eradication of threats
Automated incident notification & response & remediation
Minimized response times excluding alert fatigue
Early prevention of phishing and suspicious network traffic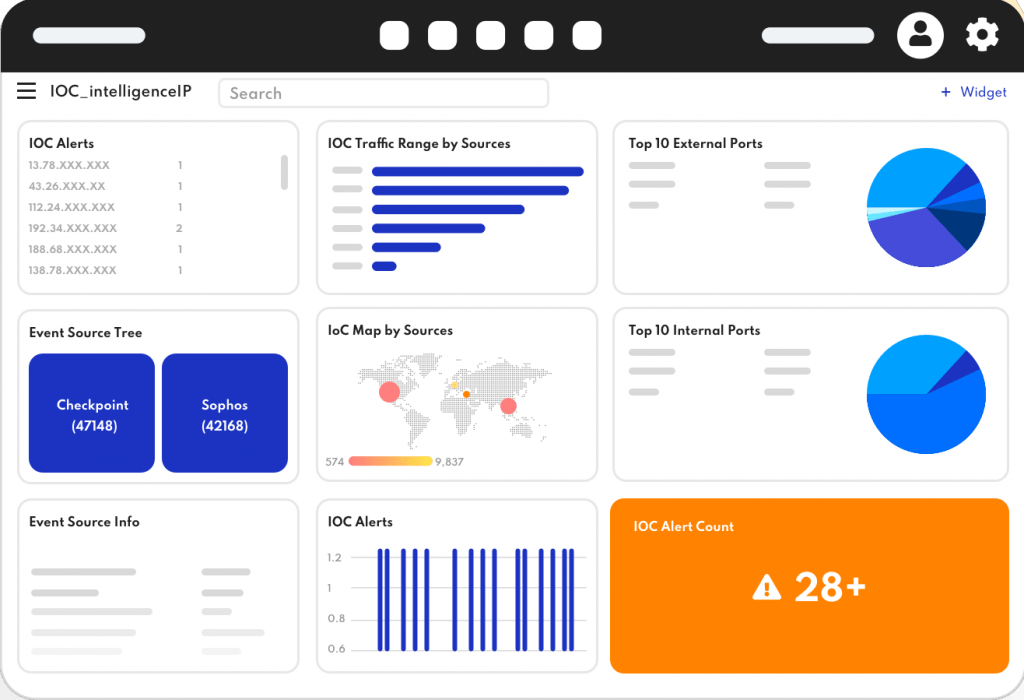 SIEM Features
Smartly Designed Big-Data Environment
Big-Data Infrastructure:- High Available, Hadoop platform with NoSql database.
Unlimited Scalability:- Designed to scale for petabyte-level big data experience.
Fast & Easy Deployment:- Hundreds of built-in integrations and a free plugin service.
Massively Parallelized:- Fault-tolerant system. High volume replicated data. Flexible to add any #of users, nodes, or sources.
Continuously Active with Zero Performance Loss:- The nodes are always up and running for any loss.
Unlimited Log Storage:- Store any data for any time affordably.
Long-Term Data Retention:- Back up your archived, compressed data. Keep it easy to access and read.
Create Your Own Data Lake
Start data ingestion as soon as you deploy Logsign SIEM. Integrate all your security tools without vendor concern. Logsign classifies, normalizes, and enriches the data for effective use.
Built-in Integrations: 400+ built-in integrations and vendor-free integration capabilities. Quickly starts ingesting all your data.
Free Plugin Service: Unstructured data parsing with free plugin service.
Any Source-Any Data: Limitless data collection from every source and environment.
Real-Time Enrichment: Performs real-time data enrichment with real-time Threat Intelligence.
Data Policy Manager: Extracts and controls your security data with a flexible Data Policy Manager.
Find the Hidden
Investigate and hunt hidden threats, validate threat levels, and triage. Easy to search and filter your results with Lucene queries.
Rapid Data Search: Find what you need in seconds with Logsign's drill-down, full-text search.
Accelerated Incident Investigation: Works on correlated and enriched data, and get results in milliseconds.
Threat Hunting: Empowers Threat Hunting to uncover any hidden threats, anomalies, and IOCs using the MITRE ATT&CK framework. Disrupt any lateral movements.
Detect Complicated Threats
Detect attacks, lateral movements, and data leakage and loss. Triage them to reduce noise.
Correlate All Your Data: Comprehensively and easily correlates all data – built-in correlation rule library and easy-to-use wizard.
Risk-Score Based Incident Triage: Leverages advanced behavior analytics for the detection of insider threats.
Advanced Detection with Minimum Noise: Lowers the number of false positives, filters security signals easily according to severity level, MITRE ATT&CK technique, or any entity.
Heighten the Visualization
You can't manage what you can't see. Logsign empowers visualization with its security analytics-driven, built-in dashboards, and reports.
Customizable, Built-in Alerts, Dashboard, and Reports: 200+ built-in alerts, dashboards, and reports. Customize easily, increase visibility.
Easy-to-use Wizards: Create new dashboards and reports with wizards in seconds. Ad Hoc and compliance reporting are not time-consuming anymore.
Delegation: Enables analysts to create their own dashboards and reports with delegation. Increased visibility comes with a heightened focus on the right area of responsibility.
Safeguard Your Data
Mitigate and eradicate threats before they cause damage and disruption.
Automated Incident Response: Eradicates threats and attacks proactively on other integrated security tools such as firewalls, DLP, and NAC when detected.
On-Time Incident Notification: You are always notified on time, every time with automated SMS and email notifications.
Automated Remediation Actions: Mitigates threats and vulnerabilities, and automatically enables remediation actions on other integrated security tools such as AD, EDR, and EPP.
SIEM Use-cases
Detecting and Preventing Data Exfiltration
Detecting and Preventing Malicious PowerShell Attacks
Detecting Brute Force Attacks
Detecting Lateral Movements
Detecting Suspicious VPN Users
GDPR: How to Detect Unauthorized Access to Personal Data
How to Detect Unauthorized Access to the Shared Folders
Identifying and Detecting Zero-Day Attacks
Identifying Insider Threats
Increasing the Efficiency of Your IT Security Team
Malware Detection
Monitoring and Managing the Highly Privileged User Account
PCI DSS: Monitoring & Detecting Unauthorized Access Privilege or Suspicious Data Access
Logsign SOAR (Security Automation, Orchestration and Response Platform)
Logsign SOAR connects people, processes, and technology to effectively manage and streamline your security operations. Automate security devices and guide your team in the same direction to keep work flowing, investigate better, and respond faster.
SOAR Overview
Automate and Orchestrate Workflows
Automate time-consuming repetitive tasks and keep security analysts on the same page with interactive case management. Manage end-to-end incident life cycle in harmony.
Accelerated Incident Response
Investigate alerts and validate threat levels. Triage them to reduce the false positives. Respond in seconds not hours.
Empowers Analyst Contribution & Collaboration:- Every analyst can contribute to the case, and the owner and contributors communicate easily to resolve, respond or escalate to one another.
Force Multiplier Effect:- We created humanoid Bots to enhance the power of analysts. Include the Logsign bots into your team. Let them work simultaneously with the same.
Designed For The Right GOAL:- Logsign SOAR welcomes the analysts with a personal workbench screen to direct them to the right GOAL at the right time.
SOAR Features
Integrate & Automate
Logsign SOAR is an independent platform, so there is no limit or barriers in integrating any security tools that you use in your SOC operations.
Wide Range of Integrations:- You see the synergy of our single and independent platforms. 400+ built-in integrations and 200+ automation enable the platform to rapidly start SOARing.
Free Support for Integrations & Automations:- Free plugin service is also available for new integrations and automation whether they are security or non-security devices. API-first approach enables easy integration.
Vendor Free:- Free to choose or work with any SIEM or other security vendors. Logsign provides vendor-free bidirectional SIEM integrations.
Humanoid Bots & Codeless Playbooks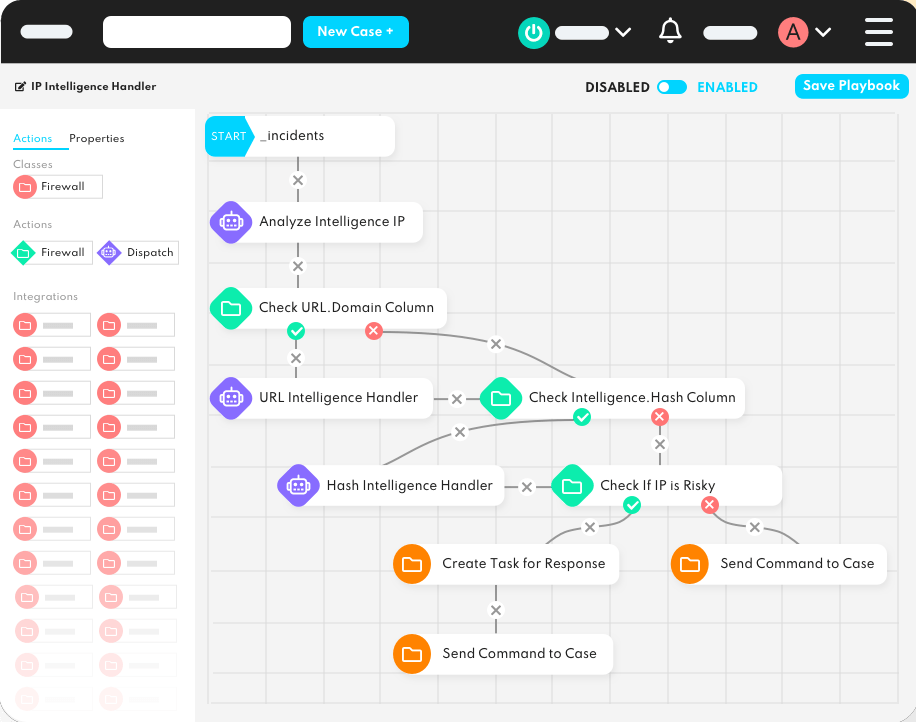 Logsign bots and playbooks are designed smartly to enhance your security analysts, not replace them. Save time for your overloaded analysts by using force multiplier bots and playbooks, and creating, automating, and orchestrating dynamic workflows.
Customizable:- Built-in bots and playbooks are easy to customize. Just drag-and-drop, there's no need to code for customization.
Visual Playbook Editor:- Create repeatable, codeless bots and playbooks with the visual playbook editor.
Interactivity:- Logsign's bots communicate and interact with each other and the playbooks inside them. Start and keep workflows up and running smoothly.
Everyone on the Case Page
Investigate, communicate and respond on a single screen to shorten your analysts' learning curve and response time. Comprehensively manage incident life cycles from a single pane of glass.
Case Grouping:- Related alerts and cases can be grouped into one to respond faster.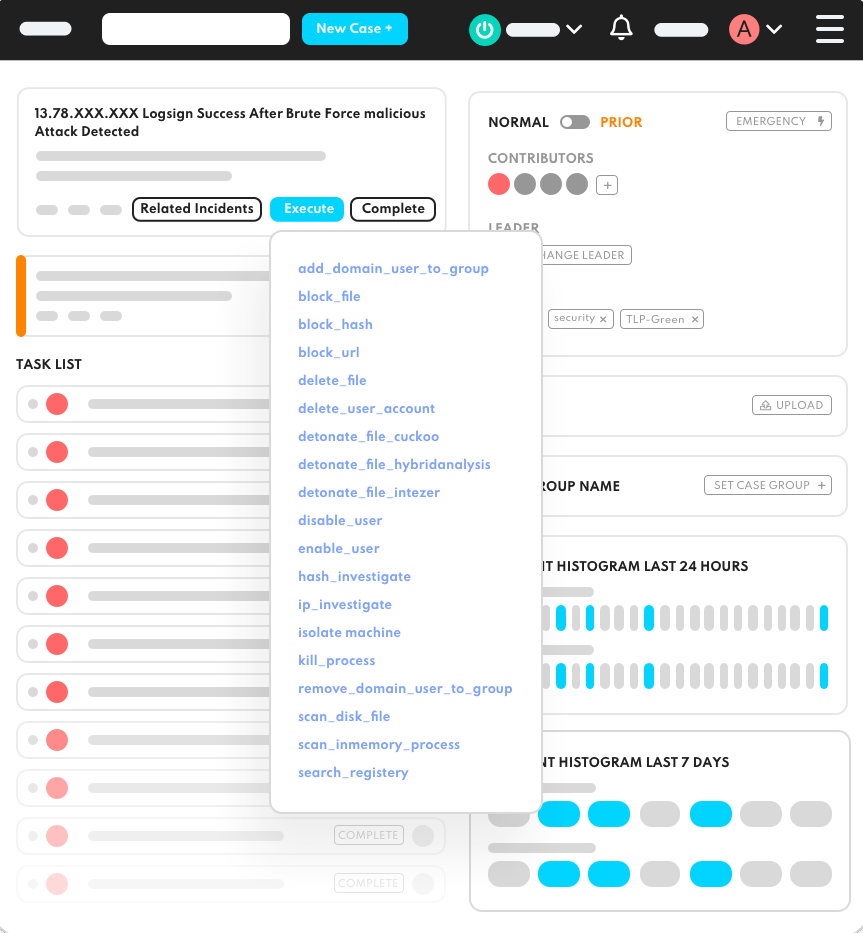 Investigation & Prioritization:- Detects and investigates alerts. Creates cases automatically or enables manual case and task creation. Prioritized cases and tasks are shown to the analysts to focus them on highly critical ones first.
Single Click Response:- Besides automated responses, Logsign enables analysts to respond manually when they decide to act, with a single click action on the case page.
Automated Case Assignment:- Assigning the analyst with the appropriate skills and experience to a case makes all the difference. Manual or automated case and task creation are easy as assigning the right person. The owner can make the adjustments and create SLAs for the cases.
Contribution and Information Sharing:- The case management screen enables analysts to contribute cases, escalate, delegate, share their know-how, and pin critical points on it. Logsign's case management approach facilitates communication among analysts to resolve cases and respond faster. It provides a fast learning curve for your team.
SOAR Use-cases
Endpoint Protection
Forensic Investigation
Identity Verification/Enforcement
Insider Threat Detection
Malicious Network Traffic
Phishing Attacks
SIEM Incident Triage
Threat Hunting
Threat Intelligence
Vulnerability Management