RDP Session Recording & Monitoring Made Easy
Windows RDP Session Recording and Monitoring can be done in a powerful yet cost-effective way. Indexed video and audio recordings of each RDP session allow you to track work with sensitive files and critical applications. Organizations across different sectors are now relying heavily on Remote Desktop Protocol (RDP) to maintain business continuity while respecting social distancing. Unfortunately, RDP is regarded as the single biggest attack vector for ransomware infections.
While the main use case is to monitor RDP sessions, Windows session monitoring functionality also provides indexed video and audio logs for local sessions on Windows servers. All recorded sessions include searchable metadata with user activity details as well as all typed keystrokes and information about connected devices.
Windows RDP monitoring includes:
Recording of all RDP sessions launched

> Screen video recordings and recorded files are indexed with multilayer metadata
> Audio recordings of input and output audio stream on monitored endpoints

Recording of other graphical sessions, regardless of the protocol or application: LogMeIn, Radmin, etc.
RDP session recording and monitoring allow you to:
> Get notified in real-time whenever an RDP connection is established
> Monitor all remote connections
> Record Windows terminal sessions
> Configure alert notifications
> Monitor server and endpoint activity in real-time
> Export sessions in encrypted formats
> Define report parameters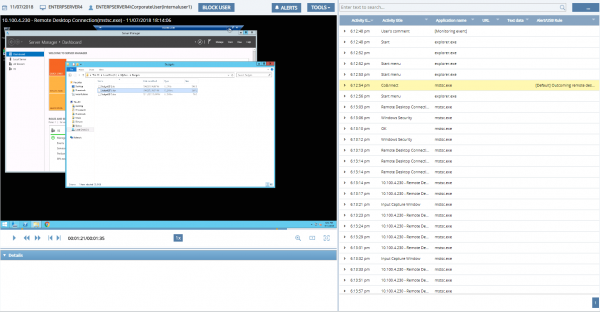 Additional incident response tools include Windows Server user blocking, user warning with mandatory action acknowledgment, process termination, and device blocking.
The Windows user activity monitoring software is protected from any attempts to stop the service, block its work, or uninstall the agent.
Ekran is a continuous Windows desktop and Windows Server user monitoring software that can be used for compliance requirements. Even if the connection to the server managing server is temporarily lost, the endpoint client continues to record RDP sessions and local sessions, storing RDP Session Recording results locally and uploading them to the server when the connection is re-established.
Remote Desktop Protocol (RDP) is one of the most common attack vectors used today by hackers and it is important to monitor user sessions of RDP users. Privileged access and privileged sessions can also be monitored by Ekran systems. RDP Session Recording solutions help businesses track their employees' productivity, attendance, minimize administrative work and enhance cybersecurity.
Incident investigation software
Being a universal insider threat protection platform, the platform can help you quickly investigate security incidents. Whether you need to investigate employees, audit third-party contractors, or research backdoor user accounts, this is the tool for you.
RDP Sessions Recording tool provides:
Easy remote deployment on target servers and desktops.
Flexible filtering options to focus on user groups, endpoints, and applications.
Indexed session video records that are perfect for analysis.
A rich toolset for search and reporting.
Context-rich recordings, including application names, URLs, commands, keystrokes, and devices.
Multiple incident response tools.
It perfectly fits your company's monitoring and auditing needs for Windows desktop and Windows Server, recording both local and RDP user sessions on all endpoints.
Windows Server auditing
Servers are critical endpoints in any corporate infrastructure, and recording terminal sessions on them is always on the security agenda. Windows Monitoring software is a powerful yet cost-effective RDP Session recording tool for user recording and auditing on Windows Server. Indexed video and audio recordings of each user session allow you to track work with sensitive files and critical applications, plugging in of new devices, configuration changes, creation of new users and updating of profiles, etc.
It also provides a range of server monitoring clients to meet the monitoring needs of endpoints of different types – from infrastructure server auditing to record an unlimited number of sessions on a terminal server for all RDP session recording on jump boxes.
Besides Windows Server monitoring, it can deliver access management and identity management functionality, from multi-factor authentication and one-time passwords to full-functional privileged access and session management.
Get a Free RDP Session Recording license for 30 days !!!