Heimdal Thor Premium Enterprise – Preventing the unknown and catching the known
Robust, multi-layered Antivirus solution to combat next-gen malware, ransomware, and other enterprise threats. Thor Enterprise is the winner of Anti Malware Solution of the Year at Computing Security Awards 2018. It has two modules – Thor Vigilance & Thor Foresight.
Heimdal Thor Vigilance – THE NEXT-GEN ANTIVIRUS SOLUTION
Thor Vigilance Enterprise combines the techniques known by both traditional and next-gen antivirus engines to offer market-leading mitigation and 100% detection. Enjoy security, compliance and convenience with unparalleled detection. Thor Vigilance Enterprise offers effective access to intelligence, enabling you to execute a large number of policies.
Heimdal Thor Foresight –  PREVENTING THE UNKNOWN
Thor Foresight provides the most effective solution against Ransomware infections. It uses Code Autonomous Protection & VECTOR(N) DETECTION technology to prevent Ransomware from infecting your computers. Heimdal's 3 key engines focus on blocking incoming attacks and preventing encryption, on mitigating vulnerabilities automatically, while also detecting threats that traditional antivirus can't detect. It proactively blocks malware by analyzing traffic patterns and filtering malicious Internet traffic. Choose the cost-saving solution for patch and software deployment that will eliminate vulnerabilities. Majority of malware today uses that outdated 3rd-party software to compromise network and endpoints. Thor Foresight has unique threat prevention capabilities to stop: Ransomware, Data leakage, APTs & Exploits.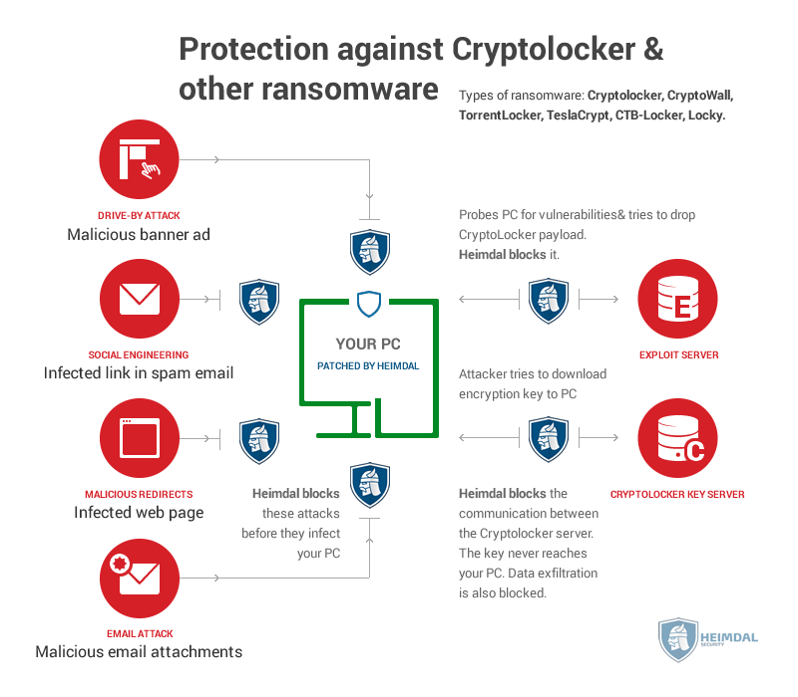 Heimdal offers protection where other antivirus products give up – offering Attack blocking, Exploit blocking, Patching, Dropper protection, or key delivery filtering. Ransomware infections can happen either via vulnerabilities or via exploits delivered from legitimate website banners and go undetected by traditional antivirus products.
Once the exploits are executed, Malware droppers deliver the payload, which can avoid your traditional antivirus. It uses the 5-layers of protection to stop Ransomware attacks at different levels. Ransomware uses one of the most advanced techniques in the world. Tracking device-to-infrastructure communication, our VectorN Detection enables you to detect and mitigate 2nd generation Ransomware strains, regardless of the attack vector. Using Machine Learning (MLD), Indicators of compromise/attack (IOC/IOA) and Network forensics It has a unique approach compared to any other form of endpoint security.
Heimdal Patch Management
Heimdal offers unparalleled vulnerability management and automated patch deployment. Spend less time on doing patch management and installing software. Remote, smooth third-party software updating will ensure compliance with all regulatory bodies and eliminate vulnerabilities commonly exploited by malicious actors. Heimdal will take care of deploying software and updates, according to your settings. You can even choose the software version to install or patch.
Heimdal patches Windows, Java, Acrobat Reader, Acrobat Flash, Quicktime, VLC Player, Chrome, Silverlight and many other applications, covering 99% of security-critical software apps. Heimdal works automatically and silently, without interrupting the user.