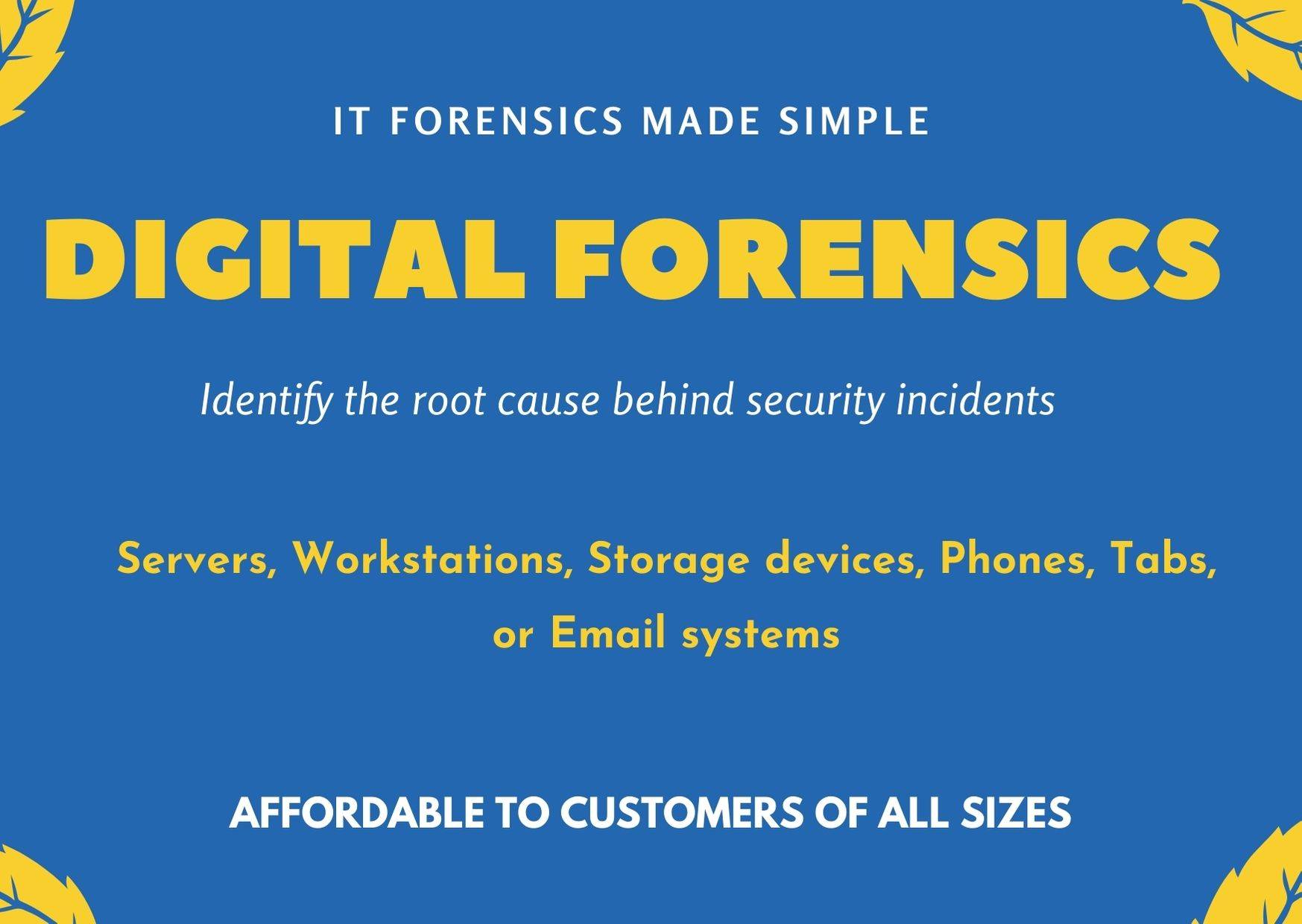 Digital Forensics (IT Forensics)
We provide digital forensics or IT Forensics services to identify the root cause of any cybersecurity incident. You can rely on our Digital Forensics experts to identify the root cause behind any IT security incident, be it deliberate or accidental by an employee or intruder into your system. IT Forensics reports can be used to gather digital evidence or in a court of law. IT Forensics report is prepared by Certified IT Forensics experts who have executed multiple Forensic Investigations for major corporations in the Middle East.
We have helped many organizations, both big and small to understand how security incidents had happened and the method used by the attacker or internal employee to intrude into their network, system, and email Server. We also provide mitigation advice to make sure that similar incidents do not happen in the future. Our forensics team has experience in handling cases related to Unauthorized data copying (by previous/existing employees), Ransomware attacks, Hacker attacks, Email Compromise, Malware attacks, and deliberate data deletion with desktop/laptop, Server, and mobile phones to name a few.
Our comprehensive IT forensics investigation service offers high-quality in-depth computer forensics, mobile phone, and Server digital forensics. This involves working with desktops, laptops, mobile phones, tabs, servers, or email systems to identify the main reason behind the incident.
We also provide digital forensics recovery to get back any evidence or data deleted by the intruder. Threat Hunting can also be combined with IT Forensics to identify and remove hidden threats within the network.
Digital Forensics – Identifying the root cause
During the digital forensics assignment, we analyze IT security incidents and unusual activity with the digital artifacts in the client's network or email system. Following a proven procedure, we find out whether an attack occurred, how the client's infrastructure was compromised, and where the attack originated. We also help organizations to identify data taken away by employees. If the client has been compromised, we help to close the security holes in question and advise on how to implement sustainable means of detection and defense against such attacks. The services provided will cover – but are not limited to – the following:
> Data theft (exfiltration) by employees (existing and old)
> Ransomware attacks
> Email breach/impersonation/hack
> Server Hacks
> Security Breaches
> Desktop/Laptop/Mobile Hacks
> Persistent threats or suspicious processes and activities
Our IT forensics examiners provide the necessary technical manpower and skills to carry out the assignment using offensive security techniques to carry out threat hunting. We also suggest a suitable Incident Response on identifying the attack vector used to breach the infrastructure and discover the existing vulnerabilities in the infrastructure. This involves providing the services of Cyber Threat Hunting using offensive security assessment techniques and appropriate Incidence Response with Network level IT forensics and backtrack of residual malware present.
Our IT Forensics services are affordable to customers of all sizes.

Cost-effective IT Forensics : Computer & Mobile Forensics
Our computer and mobile Forensics cover a wide variety of services on working with data from computers, cell phones, hard drives, and USB devices affordable to customers of all sizes. We offer a wide range of forensics services from data image capture, data analysis, keylogging analysis, IP address interrogation, send and receive confirmation, analyzing suspect file manipulation, and deletion recovery.
Our reviews are concise, effortlessly navigable, and understood for a normal person without any forensic historical past or training. Our reports provide event reconstruction and make use of timelines, figures, and hyperlinks to key proof artifacts, without overburdening the reader with technical complexity.
Data saved on cellular devices is frangible and can be easily lost, destroyed, or altered thereby lowering its value. It must be retrieved and discovered using appropriate forensic processes and forensic software. Similarly, data stored online such as Facebook and Dropbox files must be recovered directly and forensically preserved for further examination. So it is important to act before it is too late.
Request a Quote for Forensics