Server Backup made simple
Server backup plays a major role in the smooth business functioning of any organization. A server backup is an essential task that needs to be performed on a regular basis. Backing up your server data helps you prevent data loss in case of unforeseen events like ransomware attacks, accidental deletion, or hardware damage. The purpose of the backup is to create a copy of data that can be recovered in the event of a data failure. Data failures can happen due to hardware or software failure, data corruption, malware, or accidental deletion of data.
BackupAssist & Vembu provides an affordable Server Backup solution with Ransomware protection.
BackupAssist Server Backup
BackupAssist keeps you in business when disaster strikes. Survive cyber attacks, ransomware, natural disasters, hardware failures, and user accidents with the right backup and a clear path to recovery.
BackupAssist is a Server backup software that comes with a perpetual license for growing businesses that need reliable, automated protection, without great complexity or expense. It supports Microsoft Servers, MS SQL, Hyper-V & Exchange Server backup.
BackupAssist provides all of the tools you need to protect both physical and virtualized servers, without draining your IT budget. BackupAssist supports backup to local drives, network locations (NAS), public and private cloud, USB HDD, SAN, RDX, iSCSI, and tape. The Cloud Backup Add-on provides customers with several advanced cloud-specific features, such as data duplication, seeding, and cloud independence.
You can create an automated, reliable backup strategy in minutes. Incorporate imaging backups for Bare Metal Recovery (BMR) of your server to dissimilar hardware, file backups, and application protection such as for Microsoft Exchange and SQL Server. CryptoSafeGuard protects your backups from ransomware by stopping infected files from being backed up and preventing your backups from being encrypted.
Every media type has strengths and weaknesses. Off-site backups will protect you from fire and theft, but bandwidth can sometimes limit data retrieval speeds. Local backups to USB and RDX don't have that limitation, but can't offer the same level of automation and arguably, security. BackupAssist provides the best of both worlds, supporting pretty much everything you can throw at it, including external hard drives, RDX, tape, NAS devices, remote servers, cloud providers, and more.
Full server backups via drive imaging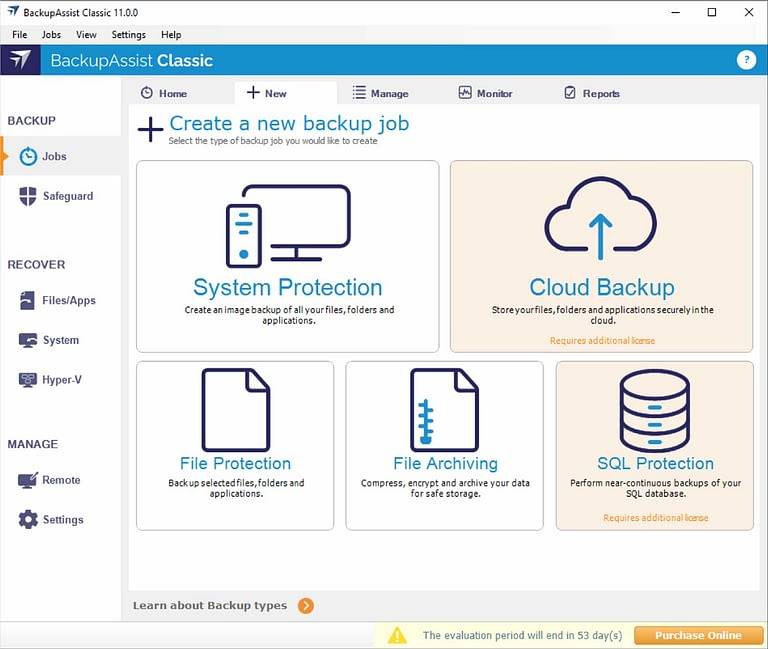 You can also get a FREE 30-day demo of the BackupAssist Server Backup software rated as #1 and used by clients like NASA, MIT, Pfizer, GE, Daikin, Volvo, Stanford University, etc.
Vembu Server Backup
Vembu provides a comprehensive Backup, Replication, and Disaster Recovery solution.
If you are a business looking to have your own self-managed on-premise or hybrid (on-premise with optional replication to your other data center or public cloud) backup and disaster recovery solution, Vembu is the ideal solution for you. Vembu BDR Suite helps you automate the backup of your data center having VMware, Hyper-V, Physical Windows Servers, Workstations, Linux, and Mac with RTO & RPO<15 minutes and minimal administration effort.
Vembu ImageBackup for Windows server is a robust and comprehensive Server backup solution for protecting the windows servers including the operating system, application, and files of physical computing environments. If the hardware of the physical windows server gets damaged or corrupted, it can be recovered instantly from windows server backup data using the recovery options like Quick VM Recovery and Instant File-Level recovery without affecting the business continuity. Vembu Windows Server Backup ensures the high availability of your physical Servers by offering near-continuous data protection and reduces the storage needs by backing up only the changes using its own proprietary CBT driver and also ensuring the RPO & RTO < 15 minutes.
Vembu's Advanced Reverse Incremental technology is designed in such a way that all the restore points in a backup job are virtually a full backup without consuming additional storage. Vembu BDR server creates a virtual full backup for every incremental backup after the successful completion of each incremental schedule by merging it with previously incremental and full backup, thus making all the incremental ready for an immediate restoration.
Vembu's application-aware process is to create consistent database snapshots by quiescing the applications using Microsoft VSS. This option allows you to stop the backup if any one of the application writers (Eg: MS Exchange Writer) were in an unstable state or if VSS writers were not processed successfully after the snapshot. Along with application consistency, it will truncate the logs based on the configuration.
Backup & Replication for VMware: Agentless VMware Backup helps to backup the VMs running on VMware ESXi host and vCenter Server. In-built VMware Replication ensures High Availability and Business Continuity of business-critical VMs.
Backup for Microsoft Hyper-V: Agentless Hyper-V backup ensures the complete data protection of Microsoft Hyper-V environments with changed block tracking technology boosting the incremental backup performance 5X times than the other vendors.
Backup for Microsoft Windows: For physical Windows servers, workstations, and other VMs running in different hypervisors such as Xen, KVM, and Oracle VirtualBox, you can install an agent in the machine and back up the entire machine.
Vembu Backup for AWS: Backup your AWS EC2 instances running on any region by adding your account to Vembu Backup for AWS. Multiple AWS accounts can be added and handled using a single console. A complete agentless solution that allows you to backup and restore anywhere anytime.
Vembu Backup for Files & Application: Backup selected files and folders from Windows, Linux, and Mac machines and individual applications such as Microsoft Exchange Server and Mailboxes, SQL databases, SharePoint sites, System State, Registry and MySQL database without having to back up the entire machine which includes data not necessary at that particular time of backup.
Vembu Backup for G Suite: Backup Gmail, Drive, Contacts, and Calendar for data redundancy.
Vembu Backup for Office 365: Backup your Microsoft Office 365 account to your data center or directly to Vembu Cloud to secure it from ransomware and other threats.