Monitor Productivity, Analyze Behavior & Manage Insider Risk
Veriato is the leading provider of workforce behavior analytics, helping businesses monitor and analyze remote or hybrid workforce activity to boost productivity and prevent Insider Risk. Veriato is the partner of choice to deliver unmatched insights to help companies thrive in today's complex work environment, especially in industries where sensitive data and IP is at stake.
With powerful analytics that works across networks, in the cloud and on-premise, companies gain complete visibility and understanding, ensuring maximum productivity and minimum risk.
USER ACTIVITY MONITORING
Veriato monitors and analyzes user activity at the endpoint, including:
Web Activity – Significantly more sophisticated than browser history, Veriato records, and maintains information about web activity, including webmail usage, file uploads, and how long a user was engaged or active on a site.
Email Activity – Capture and analyze communication activity in traditional email clients as well as many popular webmail services. A searchable system of record that can be alerted and reported on.
Chat & IM Activity – Capture, scan, alert and report on communications activity occurring on commonly used messaging apps; create a definitive record for compliance and investigative uses.
Psycholinguistics (Cerebral only) – Using computational linguistic analysis, Cerebral can identify and categorize opinions expressed in email text or chats to determine the writer's sentiment and sentiment changes that can point towards disgruntled workers and possible security risks.
Network Activity – Autonomously captures connections made by applications, including ports used and bandwidth consumed as well as time and location of the connection.
File & Document Tracking – Tracks activities on local, removable, and cloud storage, as well as print operations. See when files are created, edited, deleted, or renamed.
Keystroke Logging – When needed, the option to record every keystroke, including "hidden" characters and combinations, ensures you have the visibility you need into the activity of highly privileged users.
Application Activity – Captures all application usage to provide true reporting on what applications are being used, by who, and for how long.
Geolocation – Data on the location of a mobile device can be tracked as well as configured to alert security when a user device enters a restricted location or moves outside a specified geographic area.
Time tracking and idle time (Vision only) – monitor time spent on various activities and hours the user has been idle.
Screen Recording
Veriato records everything that occurs on a monitored computer or mobile device screen by taking screenshots, with a range of configuration options and proprietary compression capabilities to minimize storage requirements.
WORKFORCE PRODUCTIVITY
Veriato can help organizations maximize productivity and regain visibility, by identifying unproductive activities and proactively looking for signs of negative sentiment, burnout, and quiet quitting.
• Easy-to-use, customizable dashboard puts key user activity monitoring insights at your fingertips.
• Easily see your most productive and least productive employees and the activities they engage in.
• Understand idle and active time for each team member.
• Customize workday settings for individuals or teams and define what productive activity means for your organization.
• Assign productivity scores for each employee.
• Drill down into detailed user activity, including applications used, chat, browsing history and much more.
Productivity Scores
Veriato analyzes user productivity by identifying productive activity, unproductive activity, neutral activity, and idle time. Dozens of activities are monitored and categorized and everything is fully customizable to fit your organization's needs.
At a glance, you'll see all individuals with elevated levels of risk. This daily Risk Scoring maximizes efficiency and productivity by allowing your security team to hunt threats proactively.
Cerebral's AI-based behavior analysis continually tracks each user's activity and language to create their daily risk score. The Risk Score dashboard shows high scores for each day, trends, recent alerts, and user details. It provides an immediate overview of high-risk, user behavior within your organization.
INSIDER RISK MANAGEMENT
Veriato workforce behavior analytics uses machine learning to proactively identify high-risk activity, analyze employee sentiment and monitor data access to get ahead of an issue. No comprehensive cybersecurity posture is complete without an insider risk solution.
Where others look for evidence of data breaches, Veriato proactively monitors for signs of insider risk to help prevent data breaches in the first place. Veriato is always on, monitoring the behavior patterns of users and scanning for insider risk signals. The software learns what normal behavior looks like and adapts to changes in routine seamlessly.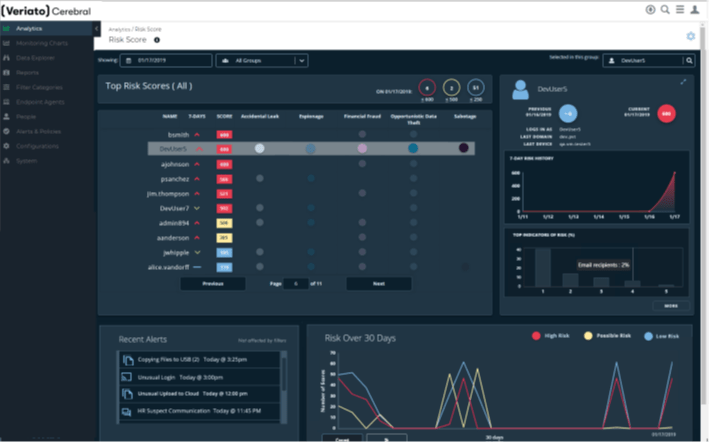 • AI-Based Behavior Analysis – Continuously track each user and automatically identify unusual or risky activity with Veriato AI-based behavior analysis.
• Psycholinguistic Analysis – Identify opinions expressed in email text to determine the writer's sentiment.
• Risk Scoring – Compile various risk factors and signals into a risk score for each user monitored and view them on a single dashboard.
• Anomaly Detection – Detect deviations from established patterns, identify signs of insider risk, and alert appropriate parties in real-time.
• Baselining – Get visibility into what normal looks like for each part of your organization with self-learning of behavioral patterns for individuals and groups, driven by advanced machine learning.
• Real-Time Alerts – Get alerted immediately to any deviations from established patterns and activities across your teams by customizing appropriate thresholds and triggers.
Risk Scores
Veriato AI-based behavior analysis continually tracks each user's activity and language characteristics (psycholinguistics) to create daily risk scores for every person in the organization. The system will also provide trends and help organize signals into several categories like accidental leaks, financial fraud, data theft, and more.
REPORTING & ALERTS
Veriato offers extensive reporting options to help you make sense of your workforce, understand trends, identify top/bottom performers, and conduct detailed investigations. Reports are easy to automate or trigger using alert words, creating digital paper trails, and simplifying audits.
Veriato's alerting system keeps you informed about potential security, policy violations, or poor productivity and can serve as a trigger to accelerate data capture when events (that you define) occur. When an anomaly is detected, alerts can be triggered based on your configuration settings to fit into your security or productivity workflow.
Easily track remote employee time, attendance & productivity with Veriato Vision.
.