Unified endpoint management made simple
Fusion unified endpoint management provides powerful device management for smartphones, tablets, desktops, laptops, and thin clients – enabling better control over your devices.
Fusion UEM – the new benchmark in unified endpoint management
Fusion UEM brings the industry-leading device management portfolio of applications – to Android (4.x upwards) and iOS (7.0 upwards) mobile devices, Windows desktop/laptop PCs (XP/7/8/10 IoT & Windows 7/10 Professional), and  Windows-based thin clients. It provides smooth endpoint management with support for both mobile (iOS and Android) and static (Windows & Windows Embedded workstations) devices.
It also provides support for corporate-liable devices, BYOD (bring your own device) policies, and even single-use case scenarios with ease. Balancing simplicity and power, Fusion UEM delivers a new level of affordability to unified endpoint management solutions.
Fusion Unified Endpoint Management – Features
Device Management & Enrolment:- Supports all Android and iOS phones & tablets, ruggedized devices such as CipherLabs and Tablet Technologies, Windows desktop and laptop PCs, and Windows-based thin clients along with VXL Windows & Linux thin clients.
Device Provisioning:- Provision both Android (>4.x) and iOS (>7.0) mobile devices and Windows (XP/7/8/10 IoT) / Windows Embedded (XP/WES7/8/10 IoT) desktop/laptop PCs and thin client devices respectively.
Inventory & Asset Management:- Asset management ceases to be a chore with Fusion UEM – see all of your devices, in real-time, and generate comprehensive reports.
Application & Patch Management:- Manage applications easily – including remote deployment, provisioning and installation, updates, and secure removal.
GDPR & Security Management:- Helps you comply with the latest GDPR data protection regulations. Keep devices, corporate applications, and data secure, in real-time – for all devices, regardless of location.
BYOD:- It provides access to secure applications and data when on company networks or VPNs – and allows access to just personal applications and data when on public networks.
Browser-based Administration:- Built for today, its hosted browser-based software is quick and intuitive to use. Everything is just a click or two away.
Remote Control:- Fusion UEM supports remote control situations: VNC and RDP for Windows OS and Linux thin clients and also Android and iOS mobility devices (optional cost).
Email Management:- Manage e-mail settings, policies, clients, and data on mobile devices as easily as you would with desktop clients.
Browsing Management:- Manage device browsers easily – implement secure policies which restrict access to corporate intranets and defined websites.
Content Management:- Control corporate content, using flexible admin rules – define who can access documents and editing rights. Audit trails log file access and update information.
Advanced Enterprise Configuration:- Advanced enterprise configurations enable large organizations to control devices with greater power, flexibility, and granularity.
GPS Tracking:- Provides live location status of mobile device including street map view and tracking history by day, week, or month.
Geofencing:- Limit the use of a device to a specific geographic area including a 1-mile radius to the office, school, etc.
Phone Blocking:- Block communications including what numbers a device can call or receive calls from.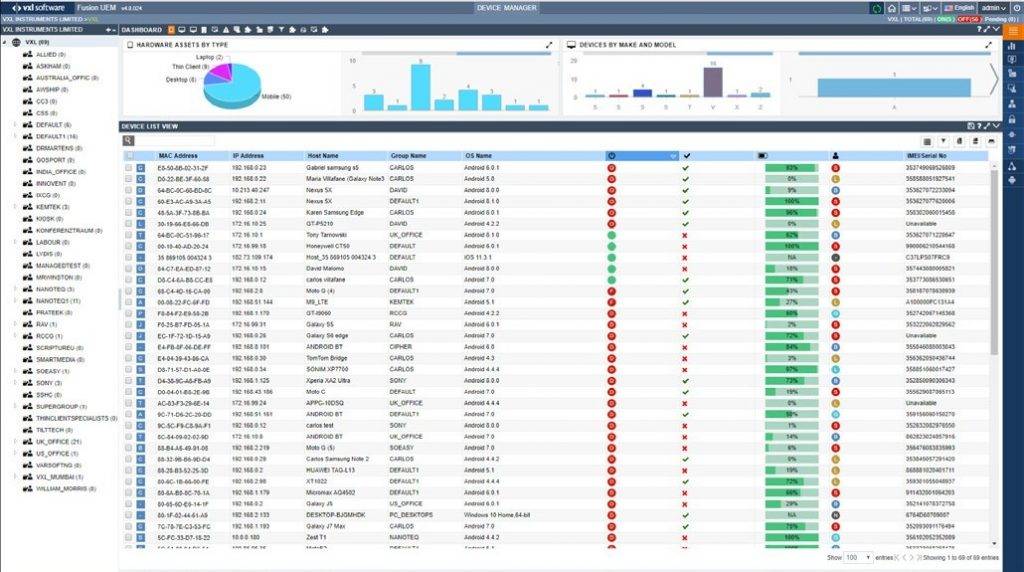 Sensible pricing, powerful features
Fusion UEM comes in two versions – each of which delivers more features than comparable products at a far lower price-point. It comes with perpetual licenses or yearly subscriptions providing organizations with greater financial control.
Fusion UEM Gold
24/7 monitoring
Agentless & standard discovery
Application management
Asset management
Browser-based administration
Compliance management
Device enrolment (OTA & bulk)
Device inventory/asset management
Device management: static/mobile devices
Device provisioning (corporate liable/BYOD)
Enterprise configurations: standard
Organizational unit/group management
Patch management
Power management
Reporting
Scalability: no imposed device limit
Security management
Task management
User provisioning
Fusion UEM Platinum
All of the features of Gold, plus:
Browsing management
Content management
Email management
Enterprise configurations: advanced
Geo-fencing/Geo-tracking
Monitoring & analytics
Remote Control (optional cost)
Single-Use/Kiosk mode security
Fusion Unified Endpoint Management solution enables you to manage devices in a way that best suits your organization, with hierarchical support for organizational units and groups – making the management of multiple devices as easy as it is for one. It also provides tiered administration, giving IT departments, managers and other stakeholders access to the information they need and the level of device control that's relevant to their role.
Comprehensive Device support 
Android:-Supports Android v4.x (Ice cream, Jellybean, Kit-kat), Android 5.x (Lollipop v5.1.1), 6.x (Marshmallow), and 7.x (Nougat) mobile phones and tablets – regardless of brand/manufacturer.
Apple iOS:- Supports iOS version 7.0 onwards on all iPhones and iPads, including the iPad Pro and iPad Air.
Windows, Windows Embedded & Gio Linux:- Supports Windows 7, 8, 10 IoT and Windows 7 & 10 Professional, Windows Embedded 7, 8 and Windows 10 IoT and VXL's Gio Linux for thin clients.
Operational Prerequisites
Microsoft Windows Server – supported versions: 2112r2 / 2016
Microsoft SQL Server – supported versions: > 2008r2. Supported editions: Express, Standard, and Enterprise
Microsoft Internet Information Services (IIS) – supported versions: >4.5
Microsoft .Net Framework – supported versions: >4.5